For Your Consideration -
Some Example GeoMOOSE Sites
ALP Utilities in Alexandria, Minnesota uses GeoMOOSE to map the locations of their electric grid, fiber optic system, storm sewers, and much more. This clean and simple use of GeoMOOSE relies primarily on local data, requires very little customization, yet provides tremendous value.
Please note this older example works best using Chrome or Firefox
When partners in a NATO Science for Peace and Security program needed a way to integrate their ecological databases online in support of environmental remediation of former USSR bases in Mongolia, GeoMOOSE was selected as the answer.  GeoMOOSE has allowed the Slovak Environmental Agency, and Mongolian Ministry of Environment and Green Development, Environmental Information Center, Institute of Geography and Geoecology, and Ministry of Defense, to pull together their respective data and then augment it with other online services such as  Google's terrain maps and satellite images.
The effort has been technically described as: "The purpose of this geodatabase is to integrate diverse contamination data set produced by different organizations in multiple format, to provide data to decision makers and public in more efficient way. The contaminated sites database helps to identify sites and polluter, monitor contaminant level, assess risks to human and environment, set priority, and plan rehabilitation work and site management." [1]
Extensive Customization Example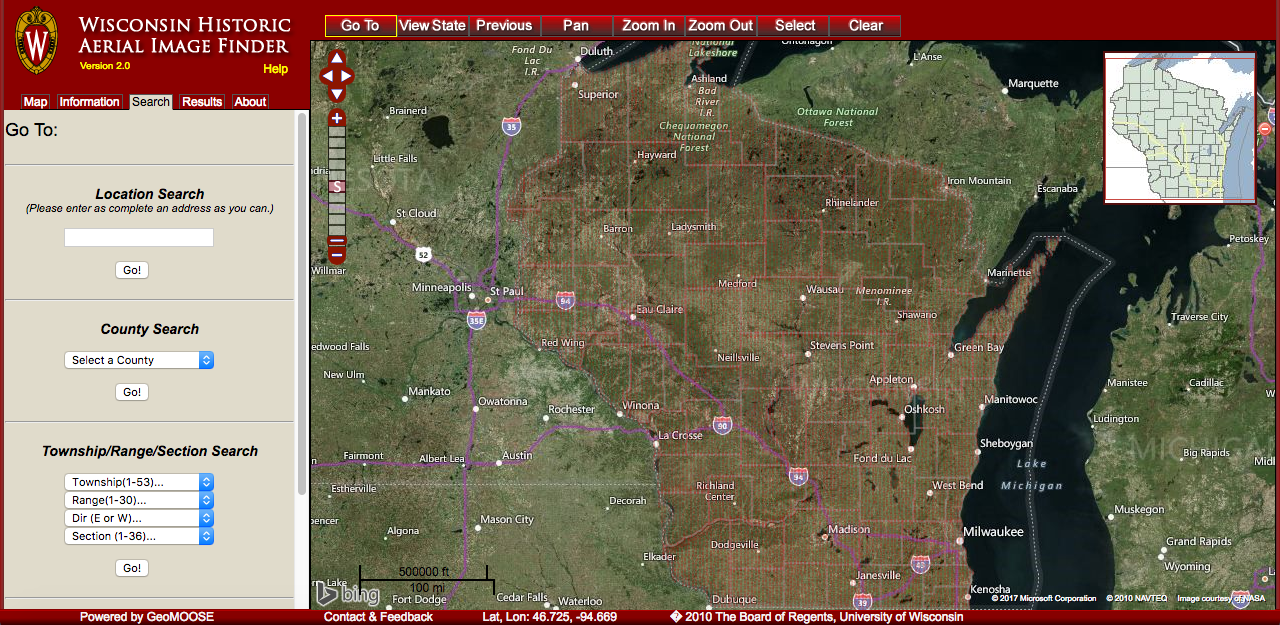 The University of Wisconsin - Madison fully customized a GIS interface using GeoMOOSE to provide the public with free, online access to the state's historic aerial images. The Wisconsin Historic Aerial Image Finder (WHAIFinder) has very little resemblance to the examples above, yet ran entirely on GeoMOOSE. Particularly noteworthy about WHAIFinder - it was awarded the 2011 Governor's Award for Archival Innovation from the Wisconsin Historical Records Advisory Board.
Some Additional Example Sites...
International and State Sites